Exclusive Ebi interview! (I do zis 4 ze people my earthlings!)

Today I had the pleasure of meeting the Japanese Hakan superstar, Ebi. In this exclusive interview with the humorous chap, he had some very interesting things to say regarding Street Fighter V, how he got into games, the community around him and of course the character Hakan. Read on and delve into the mind of the world's best Hakan!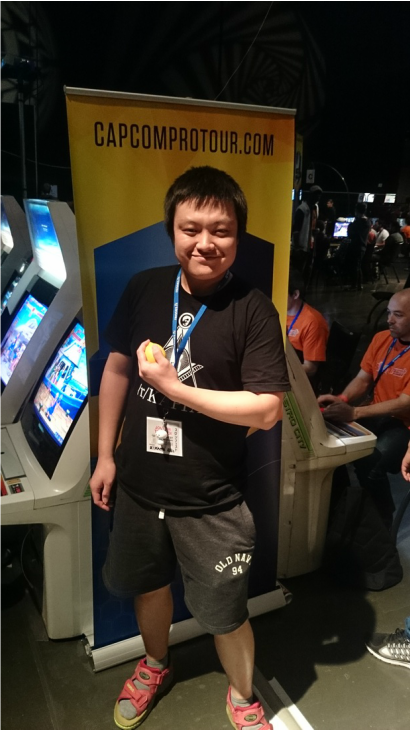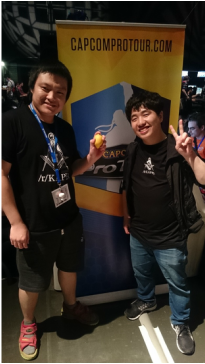 RH: What was your first fighting game and who was your character of choice?
EBI: My first fighting game was Street Fighter 2 and my character was Ken.

RH: What do you think of Stunfest 2015?
EBI: It's great! At first, communication was tough here but Poongko has been helping me out loads. I'm very happy to be here.

RH: Where is Hakan in your ranking honestly speaking.
EBI: I think Hakan is ranked at the very bottom or just above, so maybe second to worst character in Ultra Street Fighter IV.

RH: Why did you decide to use Hakan despite the knowledge of his low ranking?
EBI: Well, there is a story to this and it goes back to a session at my friends house some years ago. While we were all playing together using various characters, at some point we all realised that no one was ever using Hakan. Then my friend suggested me to pick him up, adding that he thinks I could be the best at the game if I learned him as no one would know my tricks. I agreed and was confident I could be the very best if I learned Hakan,

I thought that the character's unknown areas would aid me in victory and get me to the top. I also really wanted to have something unique, that would be my own so Hakan was a perfect fit there too. We then spent time in training mode and found many tricks and but despite all finding things together, I was the only one that could do the tricks consistently. This gave me more confidence as well as character familiarity and that's where it all began.

RH: Haha, that's epic! Thanks for sharing that story. Ok moving away from the lower half of the cast, who in your opinion are the top 5 characters in Ultra Street Fighter?
EBI: In no order I think Evil Ryu, Seth, Rolento, Elena and Ken.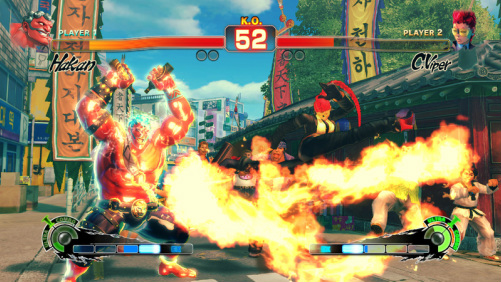 RH: It is globally known that Hakan doesn't get the best results when compared with the rest of the cast, and many people feel Hakan is ranked low, maybe even the lowest in the Street Fighter IV series. After having used Hakan in every iteration since Super, how in your opinion should Capcom improve Hakan?
EBI: Capcom needs to introduce a fake oiling up that can be used a feint move to stop characters who have full screen punishes from getting free damage and disabling Hakan from oiling up.

RH: Interesting, please go on.
EBI: How Capcom design this move is up to them but it needs to be something that makes his oiling up move more usable. Currently Hakan is completely defenceless once he starts oiling and due to the long animation is totally vulnerable even at full screen, and even to ultra combos. This will stop characters from getting free damage as soon as Hakan starts oiling up.

RH: Perhaps it could be that he starts the oil animation but it's a fake and no oil is given it is a mere bait that can be cancelled into blocking or something else to entice players to attack with a risky move. Oh actually forget that, I know someone will say that's broken or something. However, yes this is interesting, a feint of some kind will introduce another layer of psychology to Hakan's game too. Brilliant.

Both: (laugh)

EBI: I also feel Hakan needs improvements when oiled up and when not oiled. What Capcom have done with the omega mode Hakan is a lot closer to how I feel Hakan should be. There are also many bugs with Hakan that go unnoticed due to his unpopularity. For example there is one bug where for an unknown reason you cannot rise from the oil cancel once you lay down, it's intermittent and can happen at any time. Another example is one bug where you cannot grab Elena after her dp is blocked. Despite her appearing to be in a crouched position, when you attempt to grab her it just goes right through her body, there are some others too but you get the picture.

RH: Wow, I had no idea about these things, sounds very frustrating indeed, would be so annoying to lose like that. Speaking of playing vs. is the arcade scene still popular in Japan or are you noticing more people leave the arcades for online now?
EBI: While online is popular everywhere, in the big cities they still meet up and play at arcades, but I'm from the countryside and there aren't many players in the Mieken prefecture.

In my area as some players aren't that strong I just have fun with sub characters for the most part. I've tried playing main characters at sessions and eventually one by one everyone leaves as they get bored of losing, I've been left on my own many times. As a result I decided that using subs with them was more fun for everyone.


RH: Do you have your sights set on Capcom Cup Finals 2015?
EBI: I just like playing, I enjoy playing. I wouldn't say I just play for tournaments. The fact that there are tournaments changes nothing for me.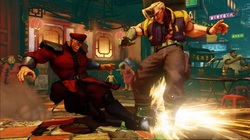 RH: What do you think about Street Fighter V?
EBI: At the moment it seems as though they want to make it similar to Ultra SF4, but I don't think making it a totally different game is a bad thing at all. In the same way that Super Street Fighter 2 Turbo attracted one crowd of people and Street Fighter 3 Third Strike attracted another, the more types of people that can join in and enjoy Street Fighter, the better it is for everyone.
RH: Will you be attending any more events this year so we can see your Hakan in action again?
EBI: I'll be going to Frankfurt Rumble so that's next, after that I'm not sure. I've really enjoyed this trip to Stunfest and I'd like the opportunity to attend more events. If I have the opportunity again in a similar fashion to how R/Kappa got me here this time I'd definitely like to attend more events.
RH: Thank you for your time Ebi, it was a pleasure to speak with you.
EBI: Thank you very much.

For all your fighting game action and more,
follow the Falcon Arena stream here:
http://www.twitch.tv/falcon_arena
On most weekday evenings and weekends!