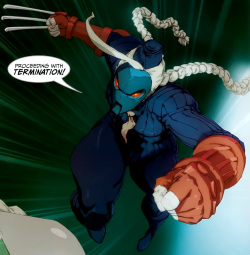 I really feel Decapre's U2 (Anti-Air DCM) and Psycho Sting charge times have been increased in the new patch, but here is how you can still do those combos in the new patch.

I'm sure this a mistake that Capcom will amend soon, but in case they take a while here is a way you can still do your combos.

For her Target Combo 1 into Anti-Air DCM, this is still possible by just doing the target combo and charging down back immediately after the ST MP input with no delay but the timing is tighter now. You literally do the ultra when the character is about to touch the floor. lol

There is another way to do it which although gives you more time to charge is a bit tricky to nail down. Stand next to the opponent and press MP for the target combo. As you press the ST MP immediately move the joystick into a crouch position then press the HK at a delayed timing.

You basically have to charge down back directly after pressing ST MP and delay the HK for a few frames to give yourself more time to charge the ultra but still keeping the Target Combo a true combo. If you press the HK too fast you probably won't charge the ultra in time, press it too late and the HK won't come out at all. Practice the timing until you get it down.

EX Scramble > Psycho Sting > Anti Air DCM

For this combo I used a different method, I tried it many times the old way and it didn't work so what I did is do the Psycho Sting command but press the button a few frames later than the direction, so Im already charging when I actually press the punch button. So basically you do the EX scramble as normal then charge, then when you are ready to do the Psycho Sting go to up or up-forward or up-back and then to down-back extremely fast press the punch button when the stick touches down-back. Then you do the Anti Air DCM when you're charged. Here's how I do it in the video, you can see the inputs of execution so you can see the charge timing too.
When you look at the inputs, you'll notice that the punch is pressed at the same time I hold down-back on the joystick.

I threw some counter hit goodies in there as well.